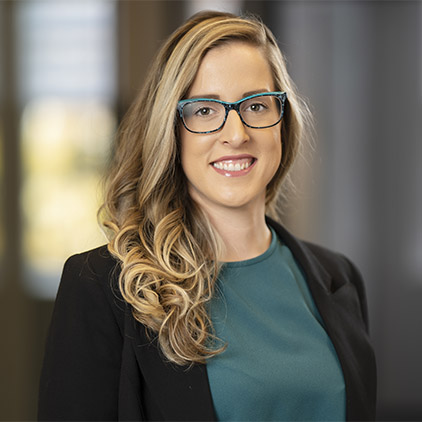 Gianna Hoffman-Luca, Ph.D.
Gianna Hoffman-Luca is a Principal and started at Xontogeny in 2019 as a Senior Associate, and demonstrates exceptional expertise in the gene therapy space. As a member of the Xontogeny investment team, she serves as a board member or board observer to Xontogeny and Perceptive Xontogeny Venture Fund portfolio companies.

Prior to Xontogeny, Gianna served as the Head of Competitive Intelligence for Solid Biosciences from May 2018 to September 2019. She was hired by Solid Biosciences to build out the competitive intelligence group de novo. Putting her scientific acumen to work, she investigated the field of gene therapy uncovering, gathering, and synthesizing literature, regulatory documents, pre-clinical and clinical data to arm Solid's executive team with comprehensive information from which to make myriad decisions.

From 2015 to 2018, Gianna began her industry career as a patent agent with Choate, Hall & Stewart, LLP., servicing biotech and academic clients. Her many roles included preparation and prosecution of patent applications, freedom-to-operate analyses, and IP due diligence reviews.

Gianna is a graduate of the University of Santa Cruz where she pursued both a Master's and Bachelor's degree in Chemistry. She then went on to pursue a PhD in Pharmacology at the University of Michigan Medical School. and serves as a mentor to women interested in STEM.